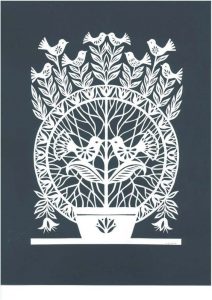 In Lithuania, paper cutting has been practiced as an art since the 16th century, and was especially popular for decorations at weddings and other special events. By the end of the 19th century, it was widely used as decoration for the home – to cover a window, trim a shelf, a lamp or a mirror frame. Today it is often seen in the form of greeting cards.
Older papercuts reflect national traditions, and their origins are unmistakeable. Current tendencies either perpetuate those traditions or venture into the abstract and modernistic. Lithuania is not the only nation that embraces this art form – it is said to have its roots in China, and is well-known in Germany, Russia, Poland, the Scandinavian countries and elsewhere.
According to one source, Lithuanian papercut designs use the image of the tree as a main motif, the tree being the central axis of Indo-European culture. It is used in many forms of folk art. A recurring image is of blooming trees, perched upon by birds and surrounded by stars, sun and moon. The technique of folding paper at the centre and using a symmetrical axis with branches lends itself to the image of a tree. The Indo-European mind-frame views the world as the tree that unifies the lower, middle and upper levels of the universe (as opposed to Oriental motifs of dragons, chrysanthemums, bouquets in vases, actors, dancers and masks, designed mostly for oval or round surfaces, and reflecting their innate affinity for the symbolism of the universe as a Cosmic Egg.)
The symmetry in Lithuanian paper cutting has been described as giving an impression of musicality. Sources mention impressive works by the matriarch of paper cut art, Julija Daniliauskienė, and A. Žiupsnytė as examples of the spirituality expressed in this art form, not merely as the selection of a certain motif but as the expression of a personal internal experience of natural phenomena.
There are thousands of examples of Lithuanian paper cut art online (look for "karpiniai" or Lithuanian papercut art). You will find an excellent source for patterns at mudubudu.lt/karpiniai_is_popieriaus. Pencil, paper and scissors or a craft blade are all the tools you will need.
Papercut art can be very simple. Small children who are able to handle scissors may have fun cutting out garlands and chains in uncomplicated patterns. It is an exciting craft for older children, who can manage more complex cutting. Design possibilities are endless, depending on the artist's imagination and affinity for meticulous work.