National Costume Archive Project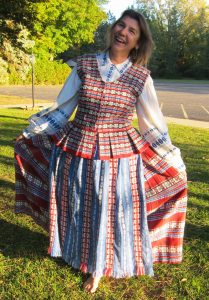 Our national costume or folk costume is the traditional apparel for men and women that was made in the home until the middle of the 19th century, when homemade clothes began to be replaced with manufactured garments. By the beginning of the 20th century, wearing traditional dress became rare even in villages and hamlets. Now the costumes are worn only on major national holidays and by performing members of folk dance ensembles and choirs.
The artistry and technical mastery required to weave the cloth for both men's and women's costumes is remarkable, particularly women's clothing, as the costume consists of multiple elements. Although the elements of each costume across Lithuania are the same, each region has its own unique variations in motif, ornamentation, colour, cut, and weaving technique. The complexity of the weaving makes each costume a treasure.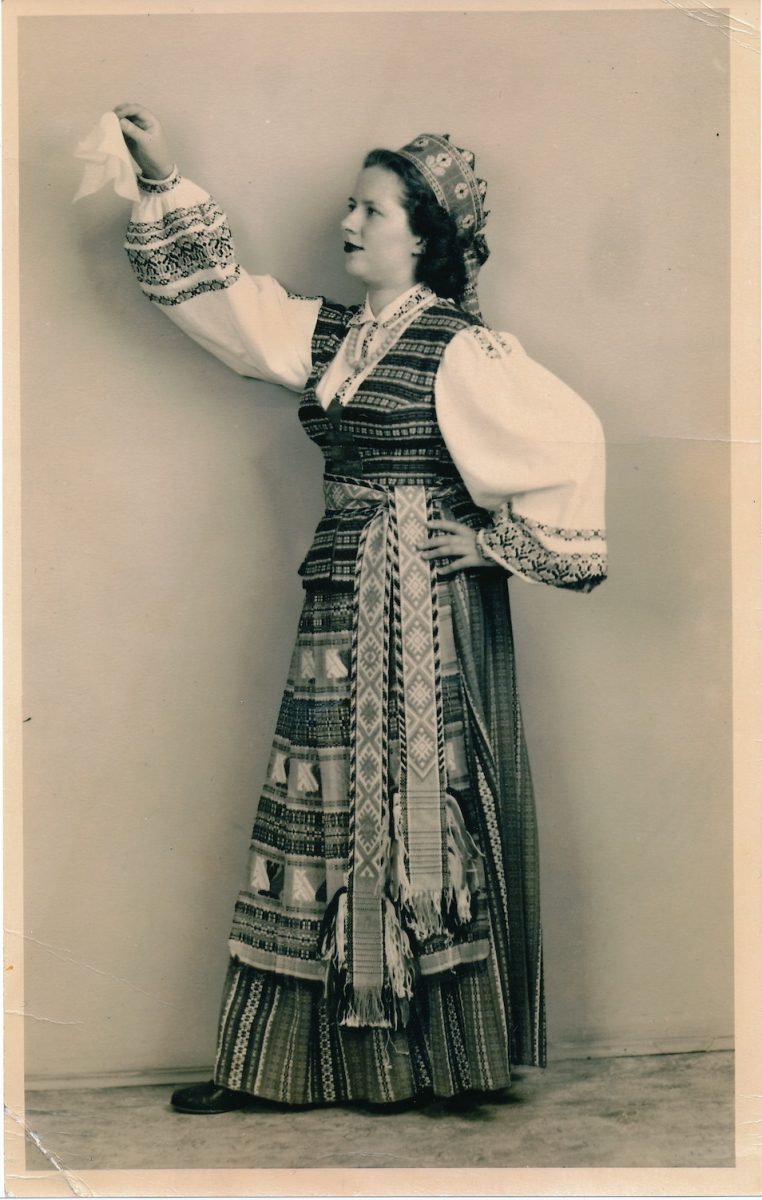 After extensive post-World War II  immigration to North America, this rich tradition was continued with weavers and their students producing cloth and sewing costumes for individuals and large song and folk-dance ensembles. Having access to high quality materials and looms ensured that the traditional techniques could be preserved and that new and beautiful variations were possible. Many costumes illustrate the patterns characteristic of more than one region. For example, a young woman born in the diaspora would like to reflect her father's heritage in Aukštaitija as well as her mother's in Žemaitija.
Many  of the weavers who wove costumes in the Lithuanian diaspora over the past 73 years have passed away – and the art form is now in danger of being lost.  To ensure the artistry is captured for a new generation,  LTFAI has undertaken a special project to have a comprehensive digital photo documentation of the costumes that we have today in North America.
The Lithuanian Folk Arts Institute (LTFAI) thanks the Lithuanian Canadian Foundation (Kanados Lietuvių Fondas) and the Lithuanian Foundation (USA) for its generous support of this important work.
The information will form the foundation of our National Costumes online collection as a fully searchable photo database of material with classifications, descriptions, and high quality photography.
To gather the material, multiple photo sessions were arranged in various communities by project leader Aldona Rygelis of New York.  Since 2014, hundreds of costumes belonging to members of the diaspora communities  in Canada and the United States in the major Lithuanian communities of Toronto, Chicago, Detroit, Philadelphia, Boston, New York and Hartford have been photographed in detail.  All costumes were accepted even though some were not complete and were missing elements. We photographed both women's and men's costumes but focused on women's costumes as they are more intricate and complex both in terms of ornamentation and weaving.  Photography was done on live models, mannequins and individual elements – whatever was readily available.
Each costume was meticulously photographed with each costume piece photographed separately and in close-up, so that the pattern, colours and thread count could be appreciated by everyone, including weavers and scholars studying the direction and artistry of Lithuanian folk weaving in the diaspora. This invaluable archive is also a testimonial to the creativity and talent of all the weavers who kept this beautiful folk art alive throughout the past decades.
If you are interested in contributing to this project or have an authentic costume that has not yet been photographed, please write to gro.i1675112168aftl@1675112168tcatn1675112168oc1675112168.
In May of 2019 the National Costume Archive will be launched. Our launch will consist of more than a dozen costumes with many more being added as they are processed. We will keep you posted !  If you have any comments or additional information please don't hesitate to contact us.  We'd love to hear from you!
Welcome to the LTFAI National Costume Archive…