Workshops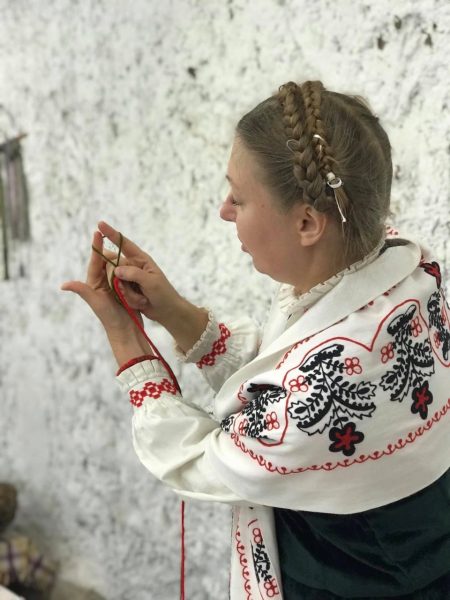 As we move to online activities and outreach, we are keen to engage with more people interested in Lithuanian folk art to provide information and instruction on unique skills and crafts.
We offered a survey earlier this year to see what people wanted and what they were most interested in.  We heard you!  So we are scheduling additional online workshops in 2021. We have 3 planned for this year and hope to put on at least one every 3 months in 2022. Your ideas and suggestions are welcome.  Please see below for general information about the workshops.
We invite you to see our calendar of online events for 2021. Click on the one you are interested in for more information. Note that registration opens 4 weeks prior to the session.
Traditional Sash Weaving (Juostos)
Make one or more sashes as bookmarks or key chain fobs
June 2, 9, 16  (3 sessions) 7:00 pm EST (Registration starts May 5)
SOLD OUT
Please sign up here to be notified of future weaving workshops offered by LTFAI.
Traditional Knitting (Mezgimas)         
Make a cell phone case or coin purse using traditional motifs
October 20  7:00 pm EST (Registration starts Sept. 22)
Straw Ornaments (Šiaudinukai)          
Make traditional straw Christmas ornaments (2 designs)
December 4  10:30 am and 2:00 pm EST (Registration starts Nov. 6)
General Workshop Information
Workshops are live online events with a skilled artisan making the craft with you in real time (not a video)
Class sizes are limited to allow for personal attention
Skill level is mostly beginner with step by step instructions
Participants must register and pay to get an invitation to the session.
Each session is approximately 1 1/2 hours long
Materials lists will be provided beforehand and kits may be available for hard-to-find materials
Written instructions will also be provided
Refunds are given only for cancelled workshops
Workshop dates may be subject to change
 Events – LTFAI Talks
Although still in development, we would like to host a series of short discussions/presentations on various topics.  These would be short (half hour or less) sessions covering specific aspects of Lithuanian folk art. They would touch on items such as history of an art form, a specific piece of folk art such as an example of a national costume from our digital archive, current and past artisan works etc.
LTFAI Talks would be free informative sessions for all participants and we welcome your suggestions and participation.  Please contact us at gro.i1628090165aftl@1628090165tcatn1628090165oc1628090165 for more information.