Biographical Information about Artists Antanas and Anastazija Tamošaitis
Other folk artists' biographies can be found under Articles.
---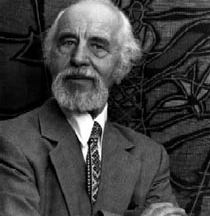 Antanas Tamošaitis  (1906-2005) was born in Barzdai, Lithuania. In 1929 he graduated from the Kaunas School of Art as a graphic artist, lectured there for two years, as well as at the Women's Art School and various other institutions. From 1931 to 1940 he was director of the Folk Art and Home Economics Department of the Agricultural Academy at Dotnuva, and travelled throughout the country, studying folk weavings and their techniques. During that period he collected hundreds of artifacts for Lithuanian museums. From 1940 to 1942 he taught at the Vilnius Art Academy and was the Director of Pedagogy, then headed the Decorative Textile Studio at the Kaunas School of Applied Art.
Antanas Tamošaitis participated in many solo and group shows in France, Germany, Canada, Venezuela, Colombia, and the United States, and had one-person shows: in Montreal (1949, 1971), Chicago, Illinois (1962, 1963), Philadelphia, Pennsylvania (1964, 1980), Ottawa, Ontario (1964, 1965, 1966), Kingston, Ontario (1965, 1984), Detroit, Michigan (1966, 1984), Toronto, Ontario (1967, 1976), Sarnia, Ontario (1968), Windsor, Ontario (1969), Washington, D.C. (1970), Boston, Massachussetts (1971), Brampton, Ontario (1982), Mississauga, Ontario (1974, 1981), Winnipeg, Manitoba (1974), Hamilton, Ontario (1975), Brooklyn, New York (1981), Chicago, Illinois (1986). In 1967 the Federal Government of Canada awarded Antanas Tamošaitis with a Centennial Medal for his contribution to Canadian culture.
Antanas Tamošaitis worked in oils, lithographs, and watercolours. Over the years he developed a unique style based on a synthesis of modern abstract elements and Lithuanian folk art motifs. In many paintings he used a unique compositional framework reminiscent of frost patterns on a window pane. On this interwoven framework he painted figures and subjects found in Lithuanian folk tales, legends, and plastic art. Because of his immersion in the ethnographic dimension of Lithuanian art history, Antanas Tamošaitis' work is best characterized by its association with the best elements of  folk art, from which his themes and images are derived. The vibrant coloration of his paintings reflects that of the sashes of the village weaver, who extracted dyes from local plants and flowers.
In 2000, Antanas Tamošaitis returned to live the rest of his life in Lithuania, and died there in 2005. A museum-gallery, "Židinys" (www.vda.lt/galerija-zidinys) was dedicated to the memory of Antanas and Antastazija at the Vilnius Art Academy, and houses the collections he donated: the folk art he had amassed, including Lithuanian folk textiles, sashes and clothes of the 19th and the first half of the 20th century, tapestries and other works created by the artists themselves. The Gallery also has a valuable library of publications on art.
---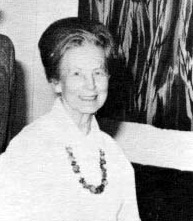 Anastazija Tamošaitis (nee Mažeikaitė) (1910-1991), born in Vainutas, Lithuania, was a painter, a weaver of tapestries and of thousands of Lithuanian national costumes and sashes. She studied at the school of Fine Arts in Kaunas, learned Swedish at Vytautas Magnus University and continued her studies in Sweden, then Austria. She was the weaving instructor at the Chamber of Agriculture's Folk Art Department, and from 1932 to 1937, head of weaving courses. She had travelled extensively throughout Lithuania, conducting courses in weaving technique, and reviving old Lithuanian weaving traditions. In Austria, she studied painting, art history, historical costumes at the Meistershule in Salzburg from 1943-1945.
In her travels, Anastazija collected a vast number of antique sashes, samples of the national costume and a substantial mass of information about them.
Anastazija was a tireless propagator of Lithuanian folk art. She wrote instruction booklets and articles on Lithuanian folk textiles and needlework. Mezgimas ir namie austi drabužiai, 1935 (Knitting and Home Weaving); Mergaičių darbeliai, 1937 (Crafts for Girls); Mūsų rankdarbiai, 1939 (Our Handiwork). She worked as an instructor of weaving in courses organized by Antanas, and as head of the Home Economics Department at the Chamber of Agriculture. Her courses shed light on the regional characteristics of folk costumes of Lithuania.
From 1940 to 1942 she taught textile art at the Institute of Applied Arts in Kaunas and from 1946 to 1948 at the Ecole des Arts et Metiers in Freiburg, West Germany.
When she and Antanas emigrated to Canada, she founded her own studio in Montreal, and moved it to Kingston, Ontario, the following year. She taught pictorial tapestry weaving at the McDonald Institute in Guelph, Ontario, in 1962 and 1963, in London, Ontario, in 1965, and in the Kingston Handloom Weavers' and Spinners' Club, of which she was an honorary member.
Her biographer, Vytautas A. Jonynas, notes that she exhibited her work at least once a year after moving to Canada. She presented Lithuanian folk art that she and Aldona Mažeikaitė created at the Canadian National Exhibition (CNE) in Toronto in 1949, and displayed at the Annual International Women's Exhibition in New York that same year. She was at the CNE in 1950, 1952, 1958 and 1971. In 1957, one of her tapestries was included in the first exhibition of national crafts at the National Gallery in Ottawa. In 1981 she wove a Vilnius region costume as a wedding gift to Britain's Princess Diana, which provided an opportunity to show a 23 minute film "Spirits of an Amber Past", via London's BBC TV. One of her tapestries is included in the collection of the Vatican Museum, and a reproduction of one of her works appears in the definitive volume, Tapestry Mirror of History (F.P. Thompson, Crown Publ., New York, 1980).
A. Tamošaitienė's work evolved in phases. The woven and knotted tapestries done in Lithuania, Austria and Germany reflect straightforward folk art. Geometric patterns and vegetative ornamentation and country architectural motifs are rhythmically ordered and balanced within the two-dimensional composition. During this period, she used watercolours for the tapestry design scheme. A new era began when she began to experiment in tempera, gouache and oil. These techniques enabled her to move from the iconography of static figures within a picture frame to partially abstract tapestries.  The mood and compostion of colour became the dominant concern. Her work had crossed the line between applied and fine art. Her tapestries took on the monumentality and emotional accent of modern painting. In her art, symbolism and subjects of Lithuanian folk legends combine with the impressions of moon, sunrise, sunsets and sounds, movements and colours of river, forest and wind.