All LTFAI Talks are online. The sessions are free but registration is required.  Registration opens a few weeks before each talk. To register click on the links below and fill out the form.
2022 LTFAI Talks
---
Kučios (Christmas Eve) Traditions
Christmas is fast approaching. In Lithuania, The most important family holiday is Kūčios, or Christmas Eve. This is celebrated at home with a traditional family dinner. In this LTFAI talk, board member and folk artist Kristina Pavilanis will discuss the history of Kūčios and share her family's most cherished traditions so you can add some Lithuanian flavor to your own holiday celebrations.
Date: December 14, 2022
Time: 7:00 pm EST
Place: Online
Registration: CLOSED
2023 LTFAI Talks
---
Black Ceramics (Juoda Keramica)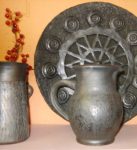 History and use of black ceramics in Lithuania: The tradition of black ceramics has been documented in Lithuania for centuries.  Although eventually falling out of favour due to other pottery techniques, Lithuania is one of the few places that still make this beautiful pottery.  Learn about the history, techniques and artistry of black ceramics.
Date: February 2023
Time: 7:00 pm EST
Place: Online
Registration: Opens February 2023
---
Past Talks
Amber (Gintaras)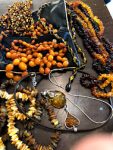 Gintaras – Our Golden Heritage: Gintaras, or Amber, has been important to Lithuanians and Baltic people for millennia. Important in terms of culture, art and symbolism. Learn about various aspects of Amber to bring you to a new and better understanding and appreciation of this beautiful "golden stone".
Easter Eggs (Marguciai)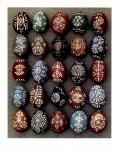 History and Significance of Easter Eggs in Lithuanian Life: The egg has long been seen as a symbol of fertility and life. Learn about the role of decorated eggs in ancient and modern times. Get to know the customs and decorative techniques specific to Lithuania.
Costume (Kostiumas)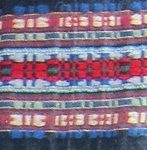 Origins and Development of the Lithuanian National Costume: National costumes were developed and worn as a form of folk identity.  Learn the history behind the development of the National Costume in Lithuania, what it consists of, various regional styles and how it is worn today.