All LTFAI Talks are online. The sessions are free but registration is required.  Registration opens a few weeks before each talk. To register click on the links below and fill out the form.
2022 LTFAI Talks
---
Crosses (Kryziai)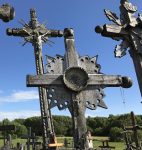 History, Ornamentation and Significance of Kryziai in Lithuanian Life: Crosses are an inseparable part of the landscape in Lithuania.  From early crosses made of wood to more recent ones made of wrought iron, the craft of making memorial monuments that include sacred and traditional symbols is a special and unique part of Lithuanian folk art and culture.  Learn about this rich tradition.
Date: POSTPONED TBD
Time: 7:00 pm EST
Registration: Opens 1 week before date of talk
---
Black Ceramics (Juoda Keramica)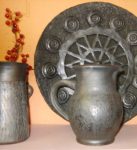 History and use of black ceramics in Lithuania: The tradition of black ceramics has been documented in Lithuania for centuries.  Although eventually falling out of favour due to other pottery techniques, Lithuania is one of the few places that still make this beautiful pottery.  Learn about the history, techniques and artistry of black ceramics.
Date: November 23 2022
Time: 7:00 pm EST
Registration: Opens 1 week before date of talk
---
Past Talks
Amber (Gintaras)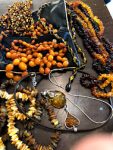 Gintaras – Our Golden Heritage: Gintaras, or Amber, has been important to Lithuanians and Baltic people for millennia. Important in terms of culture, art and symbolism. Learn about various aspects of Amber to bring you to a new and better understanding and appreciation of this beautiful "golden stone".
Date: February 23 2022
Time:  7:00 pm  EST
Registration: CLOSED
Easter Eggs (Marguciai)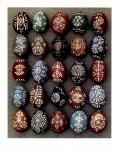 History and Significance of Easter Eggs in Lithuanian Life: The egg has long been seen as a symbol of fertility and life. Learn about the role of decorated eggs in ancient and modern times. Get to know the customs and decorative techniques specific to Lithuania.
Date: March 30 2022 (NEW DATE)
Time: 7:00 pm EST
Registration: CLOSED
Costume (Kostiumas)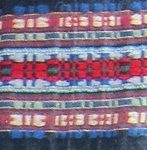 Origins and Development of the Lithuanian National Costume: National costumes were developed and worn as a form of folk identity.  Learn the history behind the development of the National Costume in Lithuania, what it consists of, various regional styles and how it is worn today.
Date: May 25 2022
Time: 7:00 pm EST
Registration: CLOSED