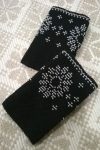 Most of us have seen the delicate crochet work used in national costumes for collar, sleeve or crown edging, and the colourful knitted socks and mittens sold in markets and craft booths in Lithuania. Wrist warmers (riešinės) have come back into vogue and summery linen knits are also popular.
In Lithuanian the term mezgimas is often used for both knitting and crochet. The correct word for crochet is nėrimas, but other descriptives are often included: siuvinėjimas kilpelėmis (literally "loop embroidery"), or mezgimas vašeliu or kableliu (knitting with a hook), which distinguishes it from mezgimas virbalais (with knitting needles).
Sources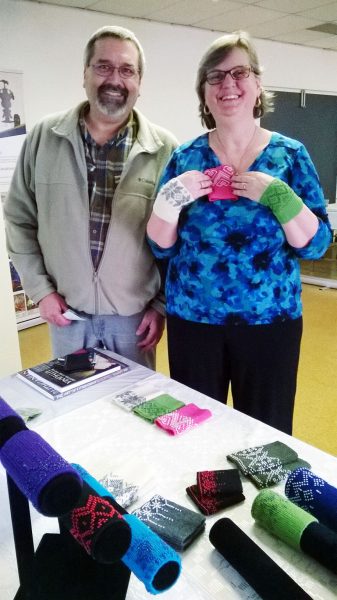 To research Lithuanian knitting in North America via the internet is to find a widely popular knitter, writer and designer featured in numerous craft and textile forums as well as her own website – Donna Druchunas. She and co-author June Hall, historian and fibre artist, have captured Lithuanian knitting traditions in a recent book, Lithuanian Knitting: Continuing Traditions and its paperback version The Art of Lithuanian Knitting – 25 Traditional Patterns and the People, Places and History that Inspire Them. This is currently the seminal work in English about this branch of our folk art, and was long-awaited both in the diaspora and Lithuania.
A description of the book is found on a popular online selling site: Journey around Lithuanian with Donna Druchunas and June L. Hall and learn about the fun and fascinating traditions and techniques that they discovered during their travels. Along with the stories, the book also includes over 25 patterns for traditional and modern socks, gloves, mittens, and beaded wrist warmers, all worked with Lithuanian techniques, pattern stitches, and motifs. The techniques used include colorwork, texture stitches, lace, entrelac, and more. Also included is a chapter on how to perform some special Lithuanian knitting techniques.
Donna Druchunas is a writer and knitwear designer with passions for knitting, world travel, and research. She has been visiting Lithuania, where her great grandparents were born, every year since 2007. Donna has been designing knitwear and writing for over a decade and she is the author of award-winning knitting books. She also teaches in the USA, Canada, and Europe and holds retreats at her private studio in a 150-year old farm house. June L. Hall is a local historian and fibre artist, and the author of a book about the native Lake District sheep, for parents and children, Henrietta Herdwick. She was a long-time member the Wool Clip fiber-artist co-operative in Cumbria, which organizes WoolFest one of the largest sheep and wool events in Great Britain and serves as a committee member for the Rare Breeds Survival Trust of Cumbria. June has had her articles and designs published in magazines in the UK and the USA.
History of Lithuanian Knitting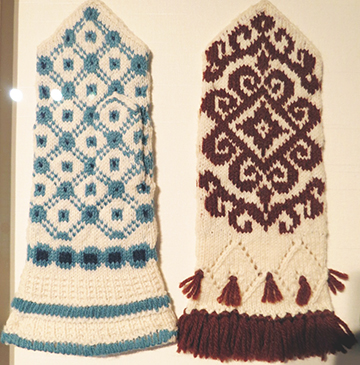 It would be redundant to rewrite the text that Donna Druchunas so thoughtfully provides in the book, as her thorough research and insights give us an excellent overview of this area of our folk art. With her permission, we quote directly from the publication.
The first Lithuanians to value hand knitting as a form of folk art worthy of documentation were Antanas Tamošaitis and his wife Anastazija. In 1935, Antanas and Anastazija noted the variations in knitted gloves and mittens across the five cultural regions of Lithuania, and collected samples from each region to exhibit in Kaunas. They published many books about folk art, including Mezgimas (Knitting; 1935) and Namie austi drabužiai (Homemade Woven Clothing; 19370, by Anastazija, and Sodžiaus menas, kn. 5: Mezgimo-nėrimo raštai (Village Arts, no. 5: Charted Knitting and Crochet Patterns; 1933), by Antanas.
Why We Knit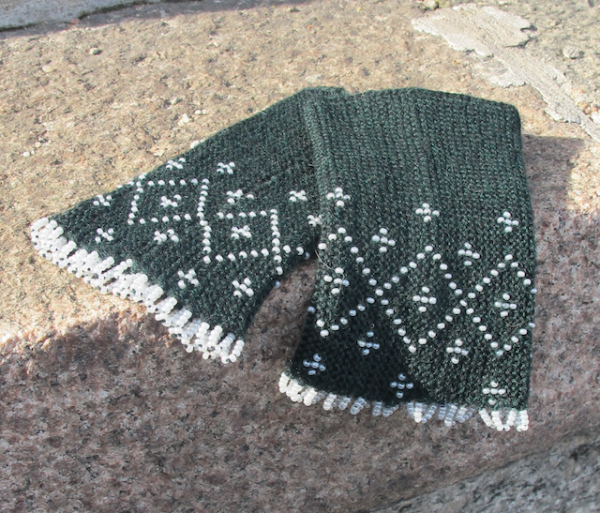 Donna Druchunas writes: "…knitting found a way to draw me toward my roots and to awaken a passion for my family's stories. It may be too late to collect the details that passed away with my ancestors, but I believe that just like genes are passed down through generations of biology, the soul of a culture can be passed down through its art and craft. We, as knitters, can be the guardians of these traditions, practicing them for our own fulfillment, and preserving them for future generations."
Knitting is fascinating not only because it is beautiful and functional, but also because each stitch infuses a hand-knit project with the story of its maker and details about the time and place in which it was made.
In Lithuania, knitting was traditionally not considered a very important craft. Every woman knew how to knit, …but spinning and weaving – especially of linen — were the skills that gave a women prestige in the community. Much more weaving that knitting needed to be done, because knitting was used only to make small accessories that would warm hands and feet: socks, mittens, gloves and wrist warmers. …they knitted for special occasions, including holidays and weddings, making small accessories that displayed elaborate patterning and meticulous workmanship.
Most gloves and mittens were elaborately patterned, although only two, or at most three, motifs would be used on a single object. Sometimes the fingers and thumbs were solid-colored.  The hand of a mitten or glove might be covered with many individual motifs arranged in horizontal, vertical, or diagonal bands, or might be decorated with an all-over, interlocking pattern. Individual motifs might also be surrounded by an interlocking lattice pattern.
Socks were sometimes worked with all-over patterning, but just as often had patterned cuffs above plain legs and feet. For summer wear, socks were knit in lace or stockinette stitch out of undyed linen yarn, or with undyed and dyed linen in stripe patterns.
Today, women in Lithuania knit from contemporary books and patterns, and they make sweaters, shawls, afghans, toys, and a huge variety of fashionable and kitschy projects, just like knitters everywhere else. Because traditional Lithuanian knitting produced accessories worn as part of the national costume, knitters around the country also pick up their needles to make reproductions of these items that are then worn by performers in singing groups and at holiday festivals and craft markets.
We thank Donna Druchunas for her diligent research and for allowing us to use information from her book.