♦ Spring is finally here, friends of Lithuanian folk art! With it comes our Annual General Meeting, which will be held on Saturday, May 4, at the Lithuanian Museum-Archives of Canada (2185 Stavebank Rd., Mississauga, ON, L5C 1T3 – also known as Anapilis). The meeting will begin at 1 p.m., to be followed by a presentation and workshop on Lithuanian Knitting (specifically traditional wristlets or riešinės) by Donna Druchunas, well-known to many knitters from her online presence, her website https://sheeptoshawl.com and several published books. These will be available for purchase, as well as $10 kits for the workshop. See details below.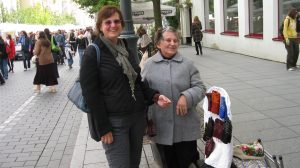 ♦ Riešinės (Wristlet, Wrist-warmer) Workshop. Our presenter, Donna Druchunas, tells us that knowing just the basics of knitting, you can easily create colourful designs in the wristlets with beads. Using only garter stitch and learning how to read and work from beading charts, in this workshop, we will make beautiful jeweled wrist warmer cuffs that are inspired by those popular in Lithuania. In 19th century Lithuania, homespun yarn was used for everyday knitting, but special, high-quality wool yarn was purchased to use for the showy wrist warmers worn on holidays and other festive occasions. Imported Czech beads, usually white but sometimes in other colors as well, were used for decoration. During the 20th century, beads were harder to obtain; some were imported from Poland, and it is likely that resourceful knitters reused the beads from old, fraying wrist warmers to embellish new ones. Although beaded wrist warmers are also knitted in many northern European countries, including Norway and Greenland, Lithuanian ones are distinguished by their asymmetrical patterns. Even if the motif itself is symmetrical, the design is placed off center, with the beaded area near the hand and the remainder to be covered by a long sleeve, unadorned. Many motifs are entirely asymmetrical, including the floral designs that are seen not only on riešinės, but also on Lithuanian colourwork mittens and gloves. Materials list for those who wish to bring their own supplies: 1 skein of fingering-weight wool yarn in a medium or dark color; 2.25 mm (US size 1) knitting needles (straight or circular); 6 grams of size 8/0 seed beads (about 200 beads). Kits (cost $10) will include yarn and beads. Needles will also be available for sale if needed. The workshop will cost $20 for members, and $25 for non-members. Please register for the workshop by April 29 at gro.i1558868322aftl@1558868322tcatn1558868322oc1558868322. Members and guests may stay for the lecture (which is free) and not participate in the workshop.
♦ We urge you to attend the AGM to reinforce our organization with your presence, your interests and your ideas, and support the work being done by the Board. Come and find out about the progress of the National Costume Archive, the website, and other activities. Most recently, we have added a Knitting section to the website, with the invaluable input from AGM guest speaker Donna Druchunas of Vermont.
♦ Also at the AGM we will have elections! The Board is up for re-election, so come and decide who will be doing what! Pay your annual fee and vote! Or volunteer! The position of Treasurer is open, and we look forward to seeing a "numbers" person, preferably with some knowledge of Excel, to jump in and keep our (fairly simple and straightforward) financial records up to date. We are also setting up some sub-committees to help us widen our activities and perspectives, so you may want to join one for short- or longer-term projects. Please RSVP regarding your attendance at gro.i1558868322aftl@1558868322tcatn1558868322oc1558868322 or send your proxy (will be sent to you with AGM details by email or post).
♦ A folk art show and sale is being planned for the Spring Cemetery Visitation Day at Anapilis, Mississauga, Ontario, on June 2, 2019. Toronto chapter chair Birute Batraks is accepting applications and inquiries by email: moc.l1558868322iamto1558868322h@ska1558868322rtabm1558868322.
♦ Feel free to send us your opinions and experiences, questions or information  about your interests and activities in the area of Lithuanian folk art at any time. Your input can lead us in new directions! An interesting example was a query from a Canadian of Lithuanian descent who is renovating her kitchen and wants to bring some Lithuanian folk art into her wall and floor tiles. While the tiles themselves are not typically available or traditional in our folk art, adaptations are possible. For example, as a result of this inquiry, mosaic floor or wall panels designed with Lithuanian motifs are now being developed. For any information please write to gro.i1558868322aftl@1558868322tcatn1558868322oc1558868322.